Spicy red lentil, tomato and lime soup with coriander
06 Nov 2017
On Tuesday night Elliot and I (and Elliot's best man Sam, somewhere on the other side of the stadium) saw Paul McCartney's One on One show in Melbourne. I had thought the title was a bit ridiculous, given it was actually going to be one on thirty thousand plus. But to Paul's credit, he created a real intimacy that I wasn't expecting and that brought tears to my eyes... twice. It wasn't just the music, though I couldn't fault Paul's incredible and charismatic band. It was the stories, the humour, the feeling that Paul really was openly sharing a piece of himself with us... all thirty thousand of us.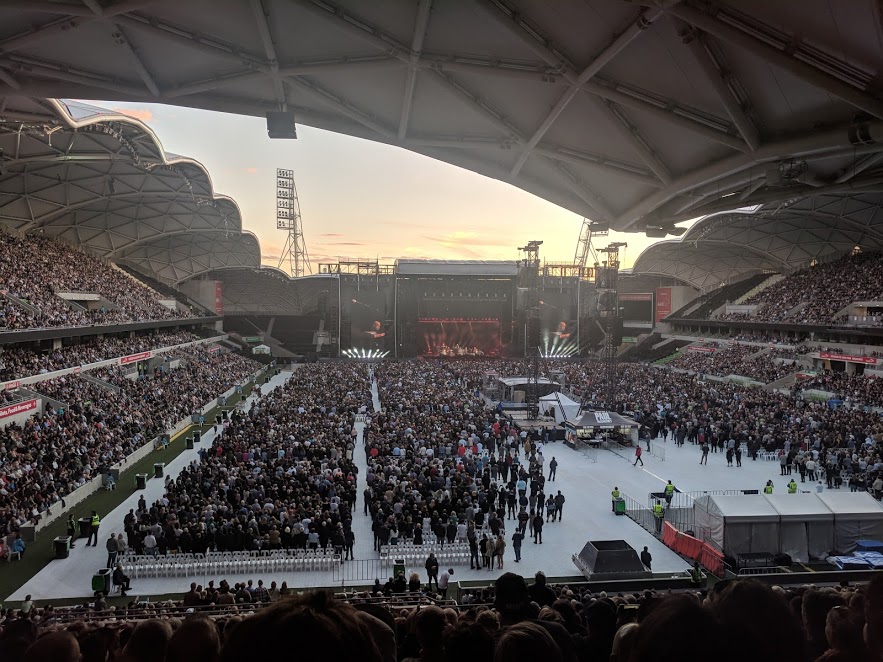 What follows is a fairly detailed account of the gig, something I know I will come back to when I have kids to explain to them just how amazing it was to see a real live Beatle. If you're not a Paul McCartney fan, best click 'Skip to recipe' now.
From the very beginning it was clear Paul was here to please as he switched back and forth between Beatles and Wings hits: 'A Hard Day's Night' – what better chord to start with! – 'Junior's Farm', 'Can't Buy Me Love', 'Letting Go', and 'All My Loving' got the crowd straight into the mood, even right up in the second-to-last row (where we scored our $70 tickets!). The range of his voice was limited to say the least... and yet. It didn't matter even one bit. The power and emotion behind it were as strong as ever, and backup vocals from the rest of his stellar band carried his voice perfectly, lifting it without overwhelming it.
As he launched into 'Let Me Roll It', a bolt of joy ran through me. A rapid headbang was inevitable every time that awesome riff came in. It couldn't have been more perfect when the band transitioned into 'Foxy Lady' in tribute to Jimi Hendrix. Afterwards Paul described him as a 'lovely guy' and 'a great guitar player too, obviously.' Paul proudly recalled that Jimi had covered Sgt. Pepper's Lonely Hearts Club Band at one of his shows only two days after its release, thrashing the whammy bar so hard that afterwards he had to appeal to Eric Clapton in the audience to come and retune the guitar (he didn't!).
When Paul sat at the piano, a hush descended over AAMI Park as he serenaded his wife Nancy in the audience with the beautifully melancholy 'My Valentine'. The slow, haunting melody floated across the audience as Natalie Portman and Johnny Depp translated the lyrics into sign on the big screen behind, just as they do in the music video. Linda's song, 'Maybe I'm Amazed', stirred similar emotions. It wasn't quite 'My Love', but as far as McCartney songs that make me swoon, it's right up there.
When Paul announced dramatically that he was about to take us back – way back – he wasn't kidding. 'In Spite of All the Danger' was the first song Paul, John, and George ever recorded together way back in 1958. Together with Colin and Duff, they were 'The Quarrymen', and this was the only song they would ever record together. Paul related how they put in 1 pound each to cover the 5-pound cost of recording, and agreed that they would take it in turns taking the record home. 'So John took it for a week, I took it for a week, George took it for a week, Colin took it for a week, and Duff took it for twenty years ... and then sold it back to me at a profit!' I was prepared for the song to fall a bit flat, given that it was the work of teenagers. But it was every bit as compelling as the Beatles songs we know and love. And by the time Paul got everyone singing along, it was as if we'd known it our whole lives.
'Let's hear it for George Martin', Paul said, 'because without him, there would be no Beatles records.' He recalled that when the Beatles were preparing to record 'Love Me Do', the plan was that John would sing 'Love Me Do' then launch into the harmonica part. But at the last minute George insisted that the harmonica should come in at the same time as the word 'Do'. That's how Paul came to sing the chorus... and how the entire song was redefined. 'I was so nervous, and when I heard the recording, all I could hear was my voice wavering!' Paul lamented. 'But not tonight!' And with that he threw himself into one of the best known Beatles songs of all time.
'And I Love Her' contained the cheekiest and most adorable moment of the night, as Paul turned his back to the audience and shook his bum during the instrumental. Afterwards he happily noted that things are very different today than in the Beatles' early days. 'We can actually hear ourselves! Back then all we could hear was girls screaming... Actually... ladies, give me your best Beatles scream!' My whole life had been leading up to this moment, and I did not let it go to waste. 'That was pretty good,' Paul replied in his perfect Paul accent, and I presumed he was talking directly to me.
Now Paul's tone became sombre, and it was clear the story he was about to tell was something close to his heart. He told us he was acutely aware of the civil unrest in the southern states of America in the late 1960s, and wished he could help in some way. And so he wrote this song, with a dream that one day, it may reach the people there and bring them some sense of hope. The song was 'Blackbird'. The stadium was silent but for the soft hum of a solemn singalong, as we all let the lyrics sink in on a level they never before had. Elliot then got his moment in the sun as Paul asked 'Can I ask a question? How many of you have tried to learn "Blackbird" on guitar?'
Between this song and the next, the mood stayed where it was, somewhere on that fragile line between sadness and optimism. 'You know when you've got something nice to say to someone,' he said, 'but you don't say it. You think, ah, maybe tomorrow. It'll hold. But what if it's too late?' He was expressing how he felt when he lost his 'good friend' John. 'Let's hear it for John', he asked simply. It's hard to describe the feeling that swept through us as the stadium erupted with sustained, emotionally charged applause. Thirty-seven years after the fact, tears welled in my eyes at his tragic loss. Even writing about it now, I'm getting chills. Suffice to say that 'Here Again', the song Paul wrote to try to put these sentiments into words, was deeply moving.
Now for a couple of new songs. The dynamic beats of 'Queenie Eye' and 'New' kept the audience engaged, if not quite as enthralled as they were for the hits. Paul did have a cheeky jab at the audience, teasing that 'We know which songs you guys like and which ones you don't, you know. Do you know how we know? When you like the song, we see a sea of smartphones light up. It's beautiful. When you don't, it's like a big black hole. But we don't care! We're gonna play them anyway!' I continued to be impressed with the quality and energy of Paul's latest offerings, though, as I said to Elliot, 'I suppose I shouldn't be surprised that Paul McCartney is writing good songs.'
'Eleanor Rigby' packed the punch I knew it would. This song has always done things to me with the quietly disturbing refrain of the chorus set against the frantic back and forth of the strings as the story plays out in the verses. Magic.
'Being for the Benefit of Mr Kite' – the lyrics of which are largely lifted directly from a circus poster – really took it up another notch. The stadium transformed into a disconcerting psychedelic circus as the rollercoaster of sliding harmonium notes reverberated throughout the space.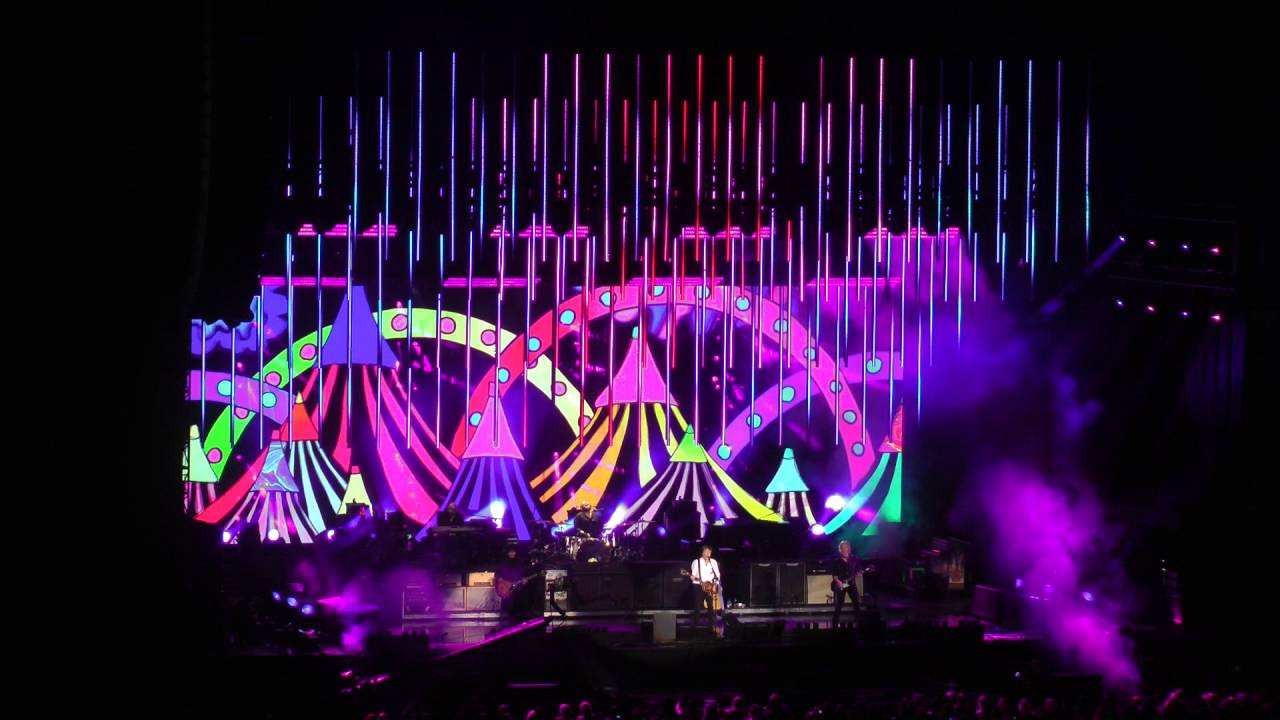 Now McCartney swapped his guitar for a ukulele and nostalgically recounted the depth of George Harrison's love for the instrument. Inspired, Paul had been moved to learn one of George's greatest songs on ukulele, and turned up at George's house one afternoon to show him. That afternoon, he and George played 'Something' together on a pair of ukuleles. And that's exactly what Paul did for us now. At the onset of the epic guitar solo, the ukulele made way for the whole band as images of a young George and Paul having a great time together danced across the big screen. As the applause settled, Paul cried out 'Let's hear it for George', and another stirring (and tear-jerking) round of applause broke out as thirty thousand people let the emotion of the loss of a true great rose up again.
Now the jarring chords that mark the onset of 'A Day in the Life' resounded as Paul voiced John's part of the classic collaboration. As the McCartney verse drew to a close, the cacophony of sound gave way to an evocative rendition of John Lennon's 'Give Peace a Chance'. The audience sang as one as we contemplated what that really means in today's crazy world.
'Band on the Run' is hands-down my favourite Wings song, and when it started I couldn't sit still. The Beatles were masters of the medley, yet the way the parts are knit together in Band of the Run is so uniquely Paul that there's no mistaking it for a Beatles song. From the resigned, restrained undulating sounds of the first verse to the rebellious beats of the second, the tension built towards the great escape of the third... and when finally 'the first one said to the second one there' I screamed 'I hope you're having fun!' like my life depended on it.
'Back in the USSR' was a throwback for me! Growing up, we had those cassette tapes you could get for kids that included the kid's name in every song (The main lyric that still springs to mind from my tape is 'It's a special world for Stephanie, 'cause she's a special girrlllll' – something Elliot enjoys singing to me in my slowest moments). Christina and I used to fight over whose turn it was to have their tape played, and in the event of a stalemate, we always reverted to the Beatles. And 'Back in the USSR' was always Christina's favourite (I was more partial to 'Revolution'). 'We always wanted to go to Russia,' Paul said, 'mainly just so we could play that song.' When Paul and his band finally did get the chance to play in Red Square – the first rock'n'roll band ever to do so – one of the Russian politicians backstage said to him, 'We learn English from Beatles records. Hello Goodbye!'
A good three hours earlier, as we'd entered the venue, warnings were plastered across the walls stating that the show included pyrotechnics. As soon as I heard the gently lilting lyrics 'When you were young, and your life was an open book...' come out of Paul's mouth, I knew this had to be the one. Sure enough, as the orchestral break kicked the song into high gear, flames leapt from the stage and fireworks erupted from atop the stadium. 'I feel like we're at KISS!' exclaimed the woman behind me, whom I would later discover actually did see KISS. Meanwhile, the woman next to Elliot missed the entire song as she attempted to work out how to use her smartphone.
Now the one we'd all been hanging out for. I'm not a big fan of 'Hey Jude' as a rule, but of all the Beatles' songs, this was the one that was just made for a stadium singalong. As anticipated, the audience's voices rang out almost as strongly as the band's throughout the verses, and Paul was sure to let us all have a go without him as the NaaaNaaaNaaaNaNaNaNaaaaas continued.
And that was it... well, until the encore.
Paul returned to the stage solo for a heart-wrenching rendition of 'Yesterday', with the simplicity of the song lending itself to his restricted vocal range. 'Sgt. Pepper's Lonely Hearts Club Band (Reprise)' warned us that 'we're getting very near the end', but not before belting out 'Helter Skelter', which was rock'n'roll magic but far harder to dance to than I had ever considered.
'Now, we don't always play this one,' said Paul, 'but tonight it seemed... appropriate.' So began 'Mull of Kintyre'. I still don't really understand why it was appropriate. A few bars in, the stage filled with the Scotch College pipes band. Seriously, of all the things you could be asked to do with your high school band... this tops the bill.
'Has anyone got a birthday tonight?' Paul yelled, and was met with whoops from far more people than could possibly have been born on any given day. They needn't have bothered, because he then went on to say 'This song's for you! And for everyone who had a birthday anytime this year!' It holds a special place in my heart because every time I hear it I'm transported back to our childhood birthdays. I see my Dad's beaming face in my mind's eye, grinning widely and scrunching his nose up with pleasure, eyes twinkling, nodding vigorously to the music. He just loved that song, and for that fact alone I do too. I wished he had been there.
There was really only ever one sequence of songs that could adequately conclude the night, and so it did. The heavy and evocative chords of 'Golden Slumbers' vibrated through our bodies and reminded us to absorb every moment, for we all of us knew exactly how long was left before the show really was over. The transition into 'Carry That Weight' was met with a sea of male voices, recognising their moment and seizing it! Then... 'The End'.
And so, after three hours (during which I didn't see one band member have a drink of water), the show concluded, with the most important piece of advice The Beatles ever had to offer:
'And in the end, the love you take... is equal to the love you make.'
On to last night's recipe.
For the better part of a decade, this recipe has been a staple in my kitchen. It ticks all the boxes – and with the advent of this blog, I got to literally tick those category boxes as I created this post! With the exception of the lime, coriander, and yoghurt (all of which can easily be replaced or left out in a pinch), all these ingredients will keep in the pantry forever, barely cost a thing, and pack a nutritional punch with a minimum of calories. And it wouldn't be here if it wasn't dead delicious to boot.
Bear this recipe in mind next time you go to throw out the unused stems from a bunch of coriander. Dice them small and freeze them in a small container so that next time you make this soup you can chuck them straight in (which makes yet another ingredient effectively long life!).
Tonight we decided to time how quickly we could make this dinner. From turning the burner on to leaving it to simmer, it only took 12 minutes between us. We then had to leave it simmering for 20 minutes, during which I put away all the ingredients, washed all the dishes I could, wiped the kitchen benches, got out the bowls and containers we'd be using, set the table along with the yoghurt, lit some incense, and wrote this paragraph.
Then, with 20 minutes of cook time approaching, I went over and added the lime juice and coriander, divided into four servings and had dinner on the table in 3 minutes – with next to no dishes left to do, as well.
---
Spicy red lentil, tomato and lime soup with coriander
Print recipe
What did you think of this recipe? I'd love to hear from you!
---