Toast with eggs, butter, cheese, mayo and greens
18 Oct 2017
Last night we went on the elaborate surprise date night I had planned for Elliot for our second engagement anniversary. (Yes, we're married now. But why pass up an opportunity to celebrate?) To kick off, we had champagne and cheese at Alexandra Gardens. I forgot the cheese board but we managed. What a beautiful afternoon it was!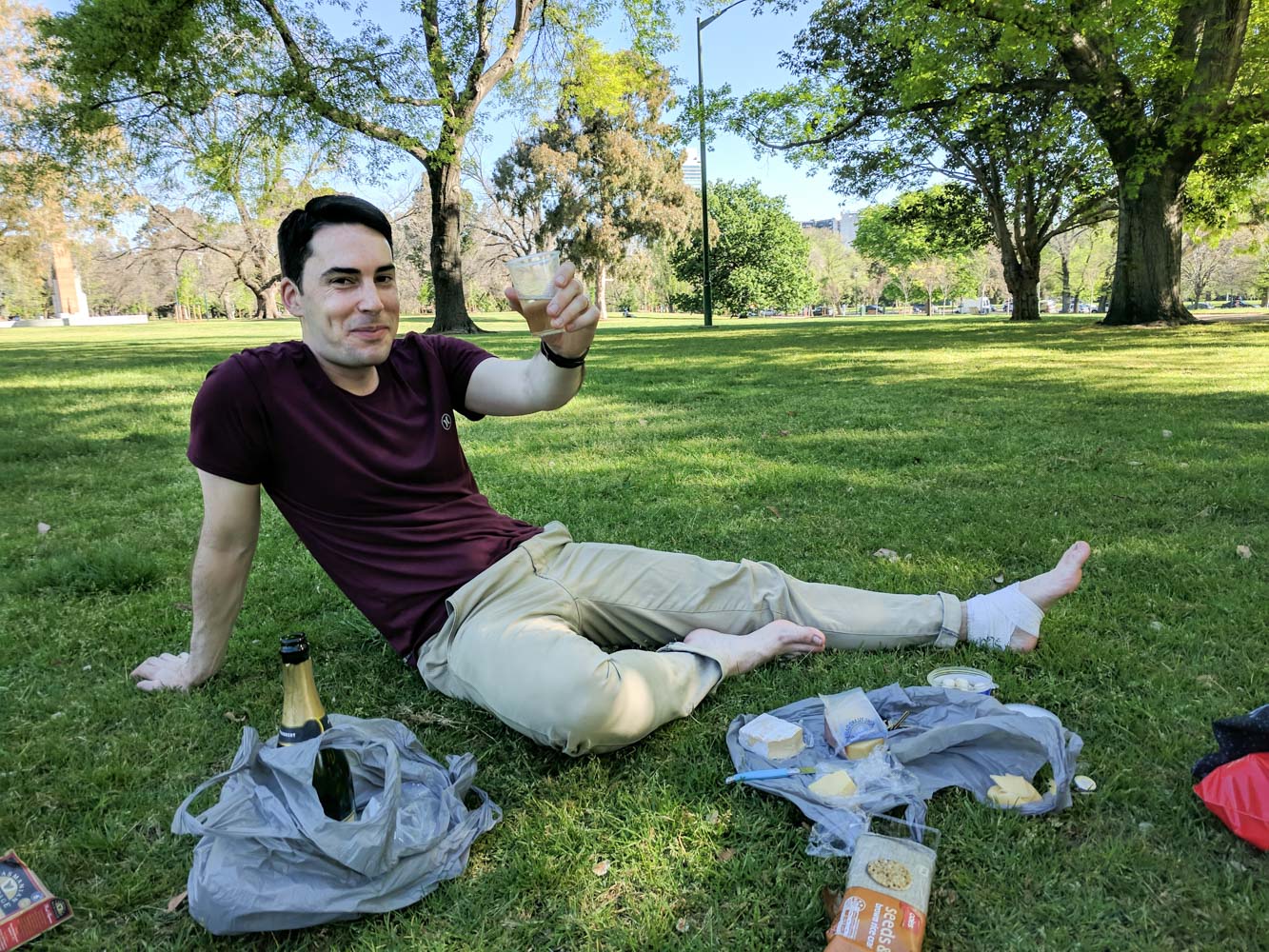 We then wandered over to Blondie Bar for dinner and a couple of cocktails before heading to the State Theatre to see 'Tree of Codes', a collaboration between electronic musician Jamie xx, visual artist Olafur Eliasson, and ballet choreographer Wayne McGregor. Ask me what it was about, and I couldn't tell you. But it was visually and sonically spectacular, deeply emotive, and constantly captivating. We were blown away.

On our way out, we went into the House of Mirrors just outside and got lost for a good ten minutes or so in what seems from the outside to be a very small space! Ten dollars well spent.
Before the show started, I had given Elliot a homemade love heart necklace full of chocolates. I now convinced him to wear it around his neck as we walked to our next destination, Cherry Bar. Here we saw a young band called Everchanging. They were great, so naturally we convinced the singer to wear the heart and pose for a photo with us.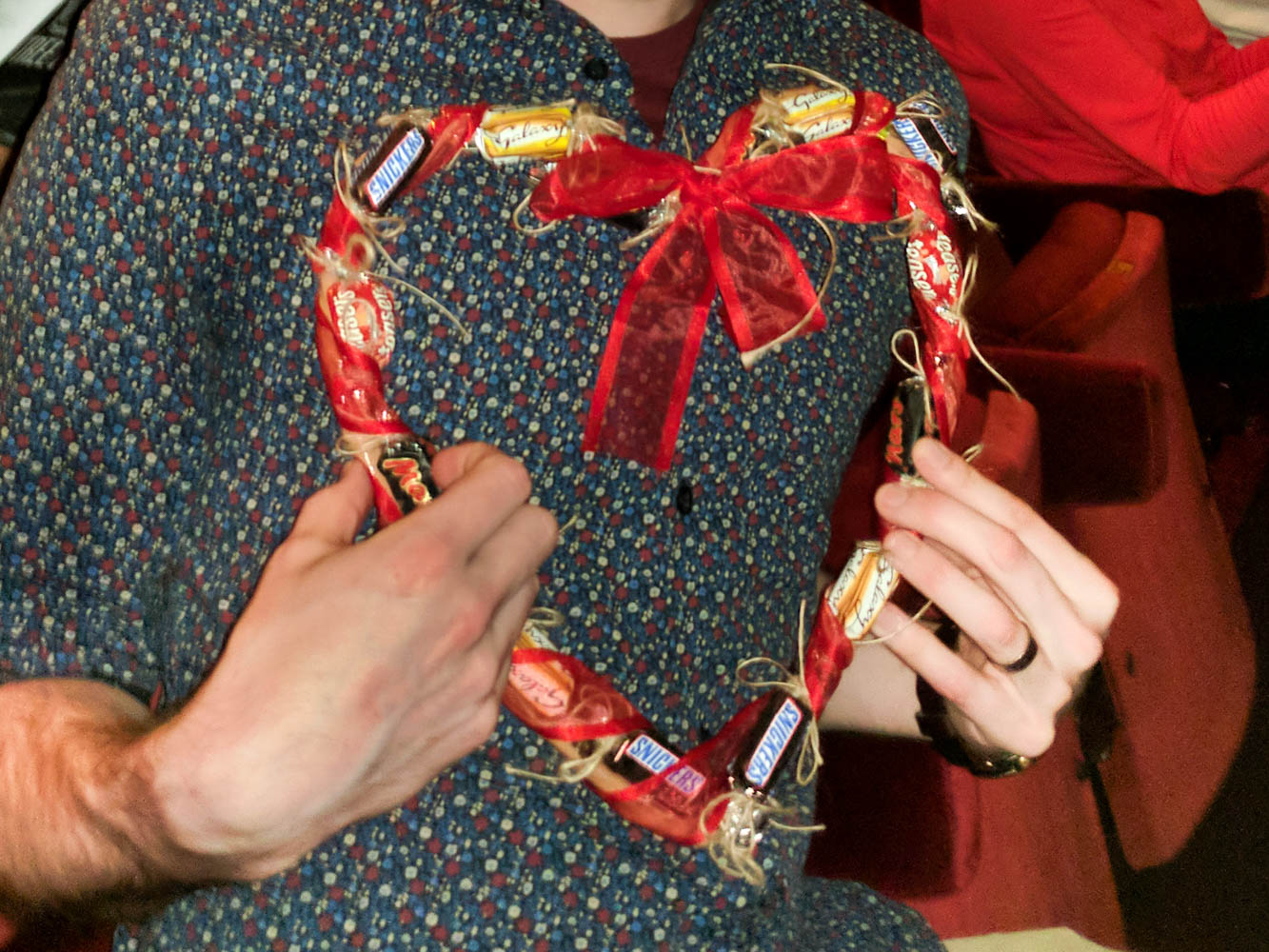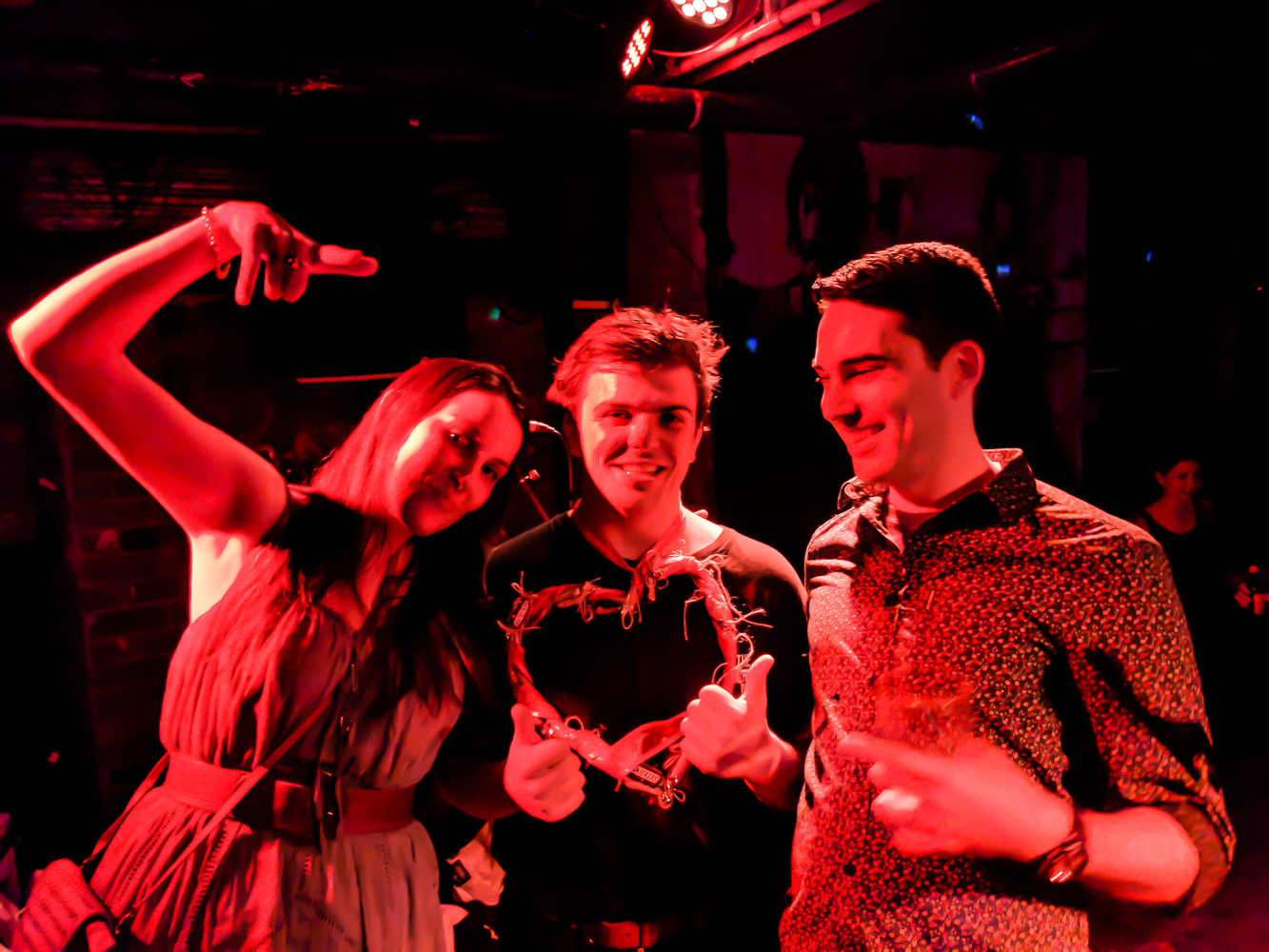 With nothing further pre-planned but no desire for the night to end, we then headed to Jankara karaoke bar, where we were greeted by a lovely Japanese bartender. With the spirit of Japan lifting us, we gave the audience a few belters.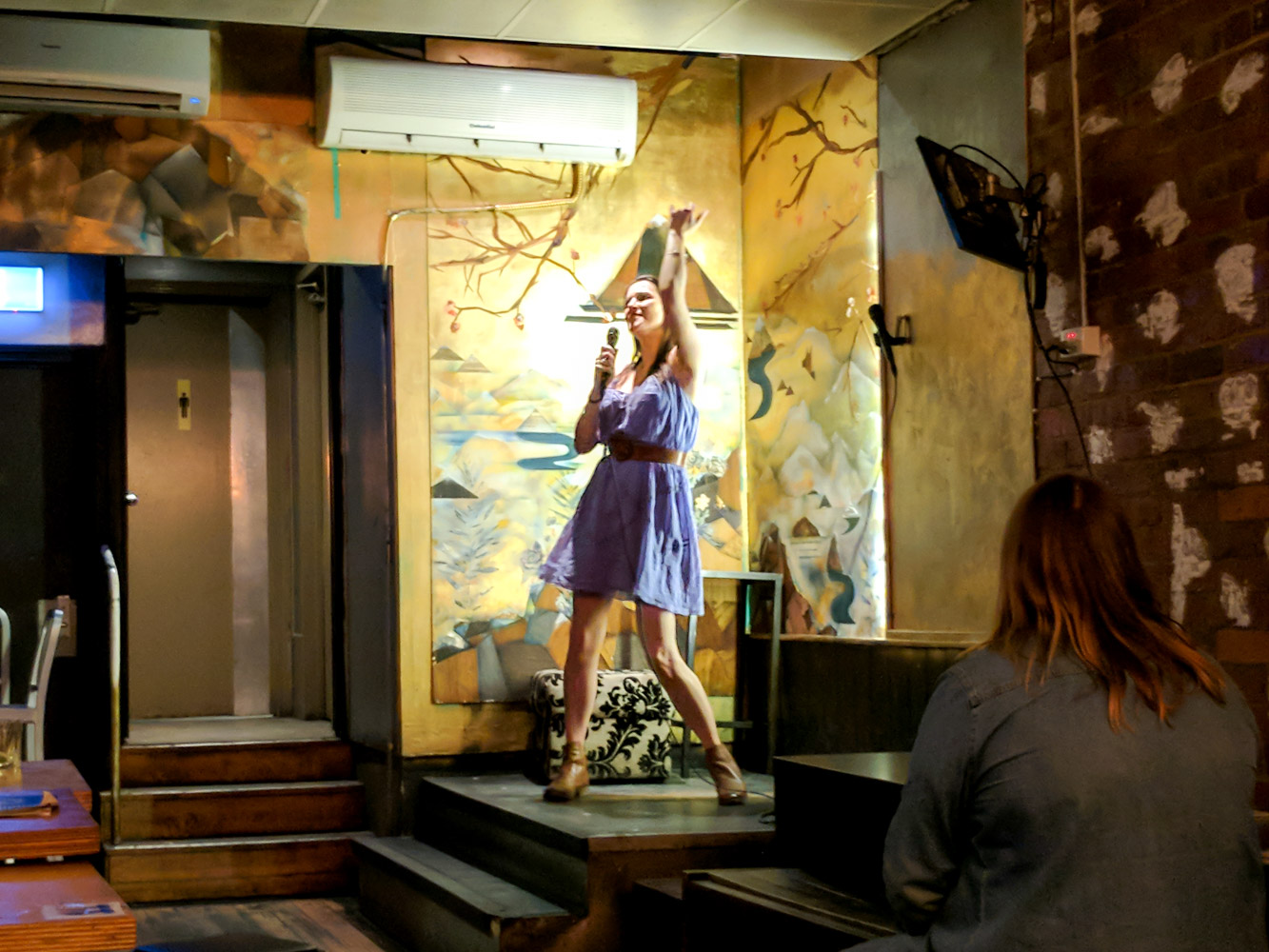 When we woke up this morning, we weren't feeling quite at our best. But scrolling through our photos reminded us that the hangover was most definitely worth it!
I desperately wanted avo and feta with eggs, but with no avo to speak of, I was forced to get creative. That's how this recipe was born: The guiltiest, most animal-derived-product-overloaded toast I've ever made. It tasted great, and it was exactly what we needed.
I got this Decor four-egg poacher from Coles at half price a few months ago, and while it doesn't poach the eggs to perfection, it's so quick, easy, and mess-free that it's 100% worth it. You can see here how much cheese I used on the toast too, though more would never be a bad thing!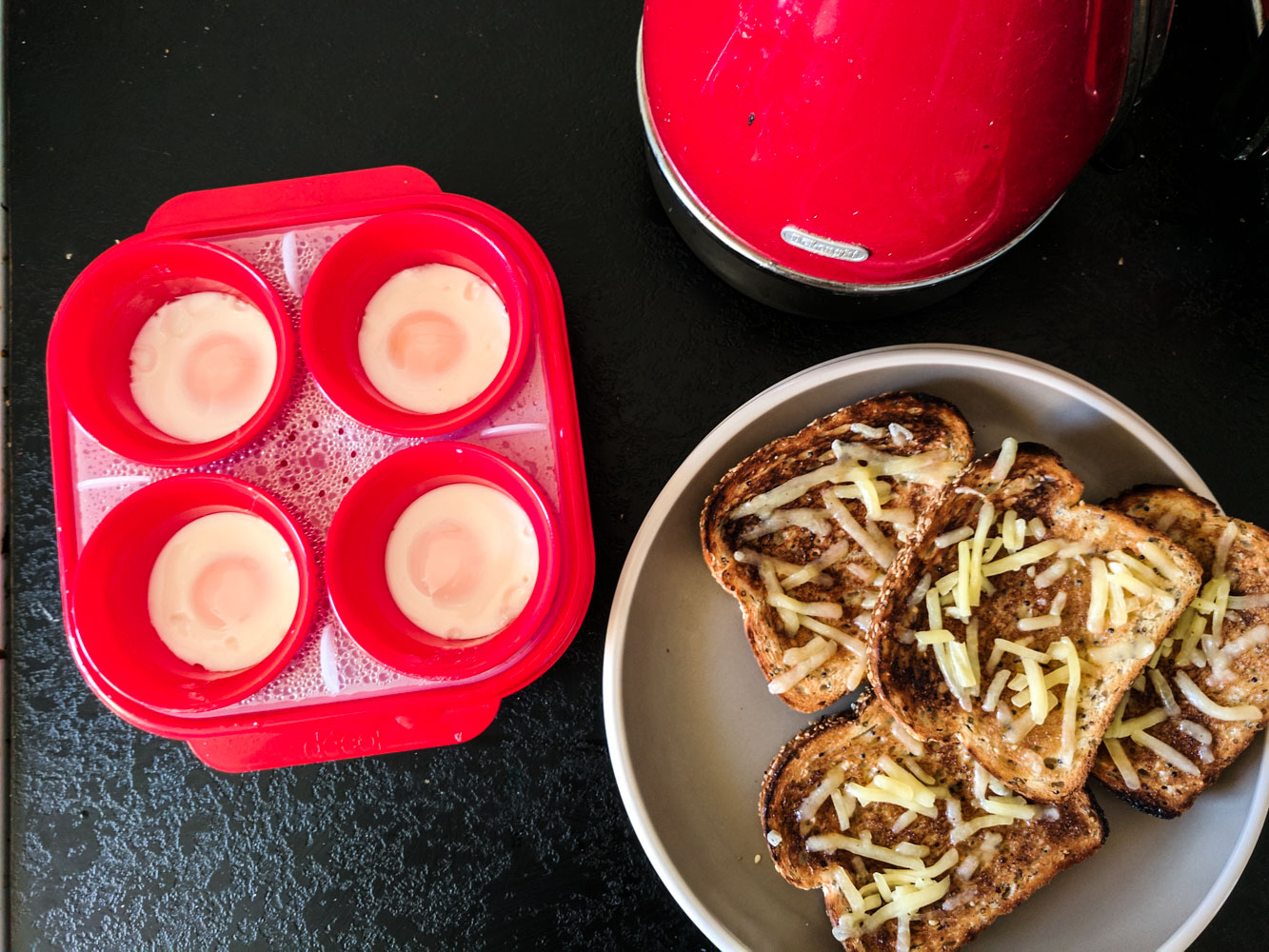 As a final note, I'd use three eggs between the two pieces of toast and baby spinach, kale, or rocket instead of lettuce for the greens, and this is reflected in the recipe below. A bit of sumac wouldn't go astray either.
---
Toast with eggs, butter, cheese, mayo and greens
Print recipe
What did you think of this recipe? I'd love to hear from you!
---