Roast vegetable spaghetti with basil pesto and cherry tomatoes
17 Sep 2019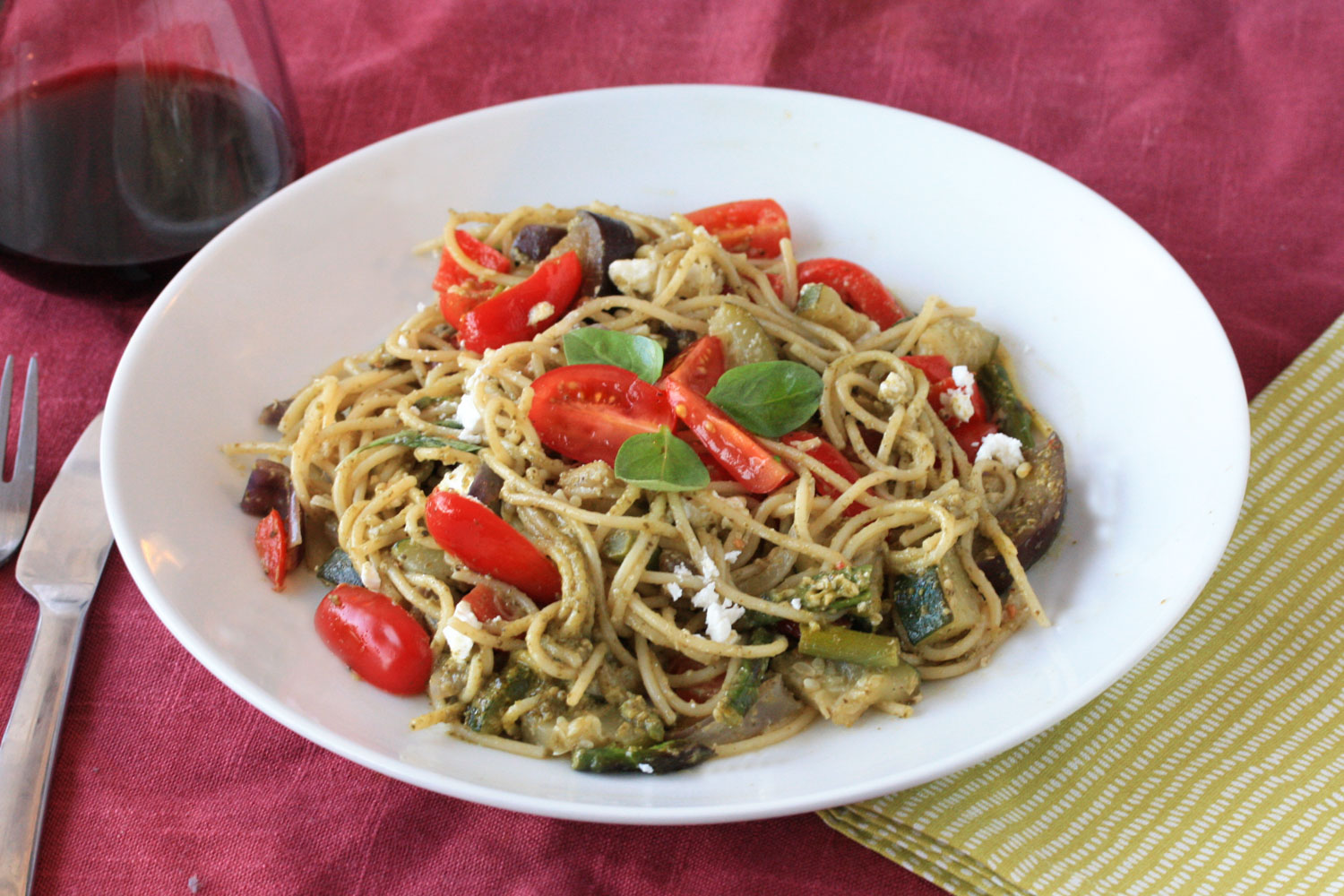 After a lovely afternoon celebrating our mate Simon's birthday with a backyard barbecue, we came home to discover that, at 4.30 pm, it was still very much afternoon! Daylight Savings really does make life better.
So we left the phones at home and headed out for a nice long walk around Elsternwick, which has some of the most beautiful homes and gardens in Melbourne (as well as some awesomely bizarre ones). We walked past a house acting as a function venue in a residential street that had some of the best dressed people I've ever seen. Spectacular yet perfectly tasteful dresses in a sea of expensive, tailored suits. 'Why weren't we invited?' I asked Elliot. He didn't see fit to answer, which was probably a good thing.
By now, there was no time for mucking around. Elliot was hungry! So I put together this pasta with store-bought pesto. It's no substitute for the real thing, sure, but on those nights when having to use the food processor feels like a fate worse than death, it'll do!
Hanging out in the kitchen with me while I threw this together were these little guys! Can't wait (for Elliot) to get them planted.
A quick tip on pasta in general, if you ask me, the risk of overcooking pasta is massively inflated. I can't even remember the last time I thought, gee, this pasta really is a bit too soft, isn't it? I'm not saying don't rinse the pasta with cold water when it's done. I'm just saying don't overdo it. A quick rinse is fine, and saves a good few hundred ml of water from going down the drain.
This is an easy vegan option if you leave out the feta.
---
Roast vegetable spaghetti with basil pesto and cherry tomatoes
Print recipe
What did you think of this recipe? I'd love to hear from you!
1 review
Rachel Fisher

06 May 2018

Absolutely delicious! Tastes even better than it looks and so easy to make! 10/10 would make again! :)
---