Bruschetta-inspired tomato and balsamic pizza
23 Oct 2019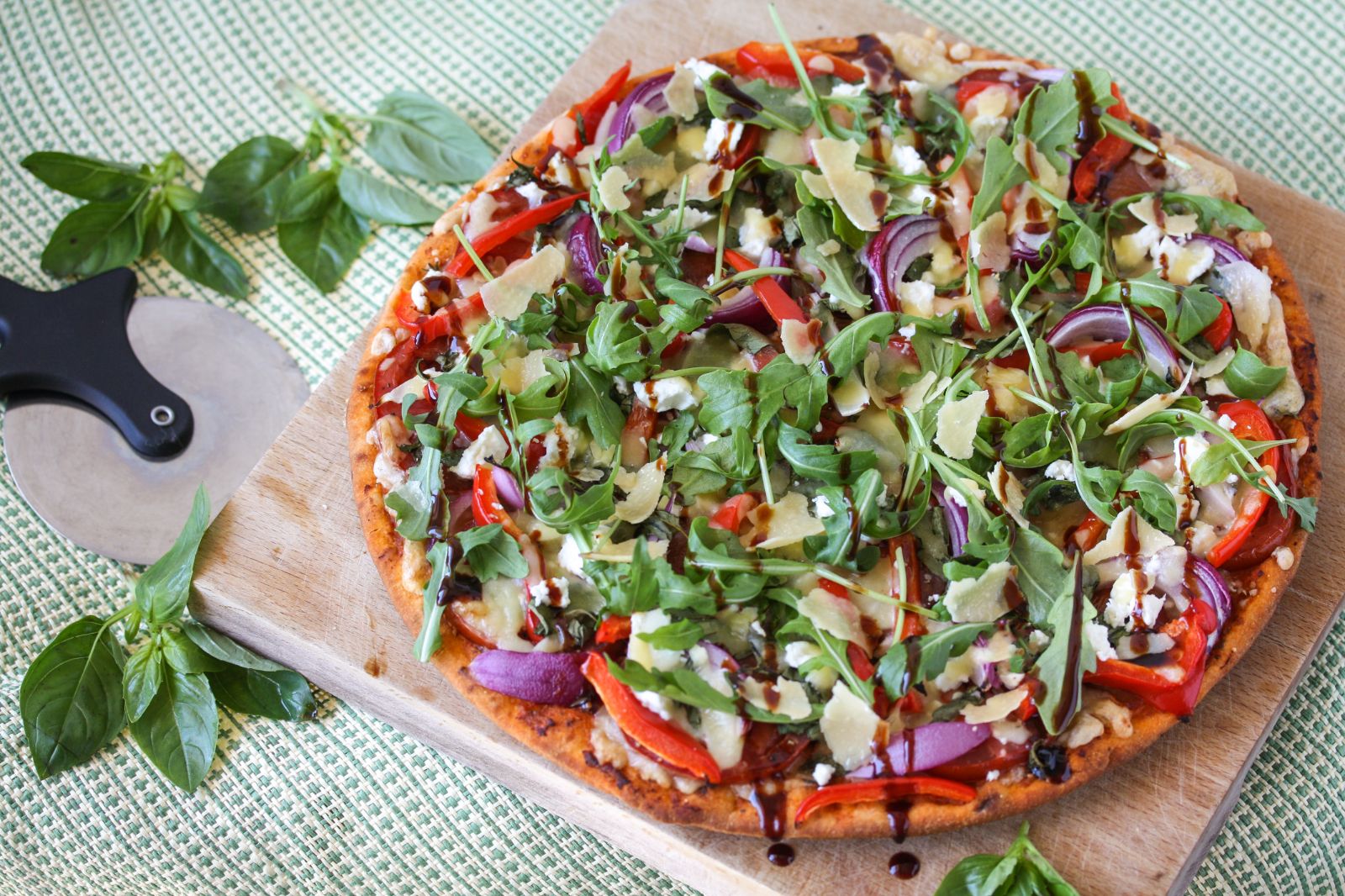 As I stumbled zombie-like around the supermarket at 7 pm after an 8-hour shift at the clinic, I was interested in one thing (okay, two): minimising cooking time, and maximising flavour! Pizza was an obvious choice, but even in my semi-conscious state, I managed to find the motivation to think a little bit outside the capsicum-mushroom-olive box.
I love the bright, bursting flavours of bruschetta, and why wouldn't they work just as well in pizza format?
Flavoursome kumato tomatoes steal the show, supported by generous portions of lightly roasted red onion, red capsicum, fresh basil, and feta cheese. The sweet, tart bursts of balsamic and the crunch of fresh baby rocket complement the soft, juicy vegetables for a seriously special pizza experience!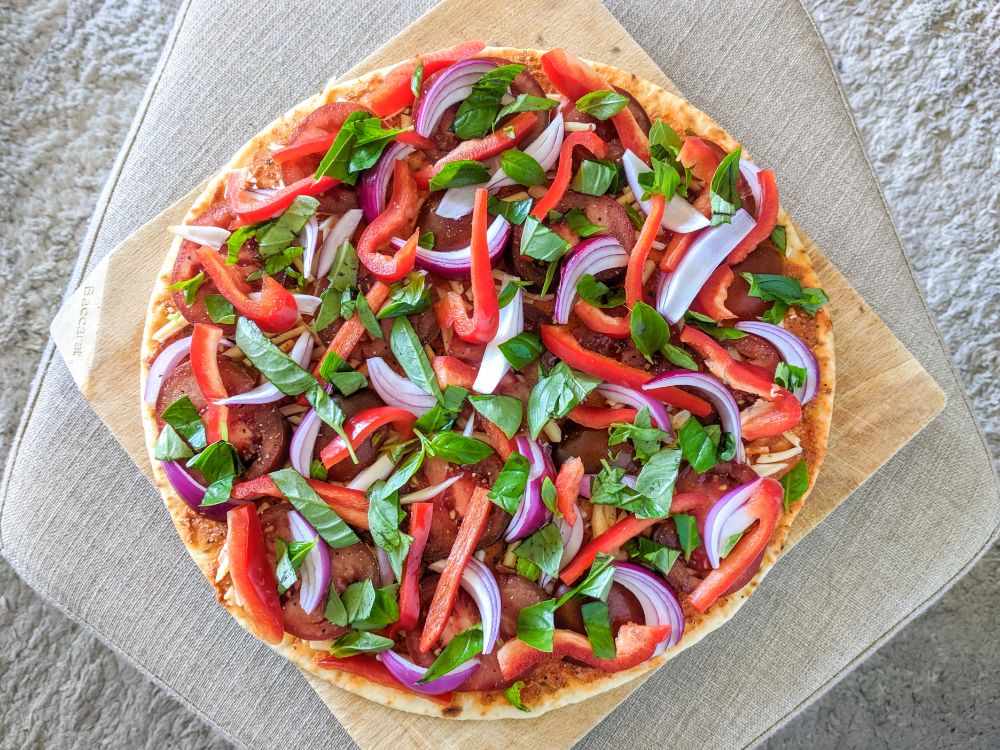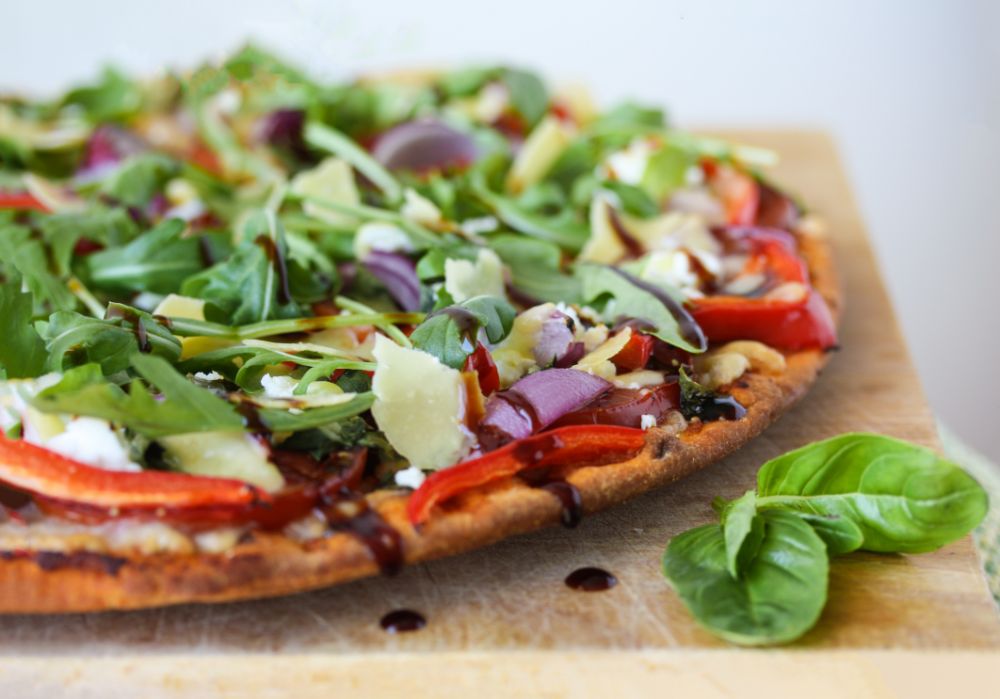 This week I want to chat about buying secondhand, and why I think it's so important.
The weekend just gone was Melbourne's Garage Sale Trail. When I found out about it the night before, I immediately set my alarm nice and early for Saturday morning. Apparently it's been running for a few years, but this was the first I'd heard of it.
By 9 am I was out on the trail, hoping to find one or two bargains. I could not have predicted just how successful I would be! I centred my search on the Brighton and Sandringham area, where there was an impressive density of sales. Across three hours, I made it to 15 garage sales and purchased 30 items!
As expected, the best bargains were to be had first thing. At my first sale I picked up five children's books and two games for $12; and at my second I got three books for $4, a sweet little Peruvian doll for $10, and this gorgeous Elk leather handbag for $70. The cosy black coat I found later in the day at Salvo's Hampton for $29. The jumper and pants were also op shopped for $5 and $8 respectively. Thanks to Pixie Rouge Photography for the lovely photo!
Since getting back to Australia and resuming the home life, I'm prioritising sustainability more than ever. And it feels good! It's actually one of the things I'm enjoying most about being back. We've got new systems for recycling, I'm continually finding strategies to reduce our plastic waste, and we're using all-natural homemade cleaning products, including these citrus- and lavender-infused vinegar surface cleaners (to be transferred into reusable spray bottles).
And just as my vegetarianism has progressed from being mostly about animal welfare to equally about the environment, my penchant for op shopping has progressed to be as much about reducing landfill as it is about getting unique bargains. There's just no need to buy things new! A good 80% of my wardrobe is op shopped. And I haven't bought any furniture new since 2014. I got this awesome set of mid-century (I think) chairs in near-perfect condition from the Salvo's for only $50!
I think some people think of op shopping as being more difficult or time consuming than just going to a shopping centre, but it's not as hard as it might seem, and it's way more pleasant. Op shops are usually in clusters, so it's not hard to visit lots at a time and up your chances of finding what you need.
Plus, parking is usually no problem, which saves a lot of time. I recently surprised even myself by knocking out 21 in a day in the Bentleigh and Oakleigh area! It's also about knowing which shops are most likely to have what you're looking for. My good mate Anna's amazing blog, She Hunts Op Shops, can definitely help you out in this regard.
One of the greatest things about buying your clothing and homewares in op shops is that it takes the pressure off. If you end up deciding something is not quite right, no worries! Just think of it as a donation to charity (because that's what it is!). I've often bought 'interim' items until I happen upon the perfect find. The old ones just get re-donated, and I've still spent way less overall than I would have on buying something new.
Every op shopping trip is an adventure. You see such a variety of items and come upon some beautiful treasure, things you wouldn't even have known existed! The volunteers are wonderful people who are often up for a chat and can tell you about what the charity does with its takings. I also love seeing how creative the staff get with the way they put together the lovely displays. Get into it!
Now, on to the recipe! You're going to love it.
---
What did you think of this recipe? I'd love to hear from you!
---